Sooft leerstof: Spel met ukemi vormen
Doelgroep: Alle leeftijden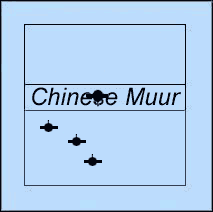 Eeuwen geleden is er in een heel ver land een muur gebouwd.
De muur was zo lang als het land breed was. De muur deelde het land in twee delen. Iemand uit het ene deel van het land mocht niet naar het andere deel reizen. De keizer had daarom op de muur enkele wachters gezet. Als je stiekem probeerde over te steken en je werd gepakt omdat je niet snel genoeg was, werd je gepakt door de wachters.
In het midden van de mat is een brede strook. Dit kan bijvoorbeeld met Tape  of met matten aangegeven worden.
Op de strook ofwel de Chinese muur staat de wachter. Hij of zij probeert iedereen die oversteekt te tikken.
Oversteken van de muur kan alleen met behulp van een valtechniek.